Existing Infrastructure
Below, find information regarding EnergyPlex Park's existing infractructure. For more details, download the entire report.
Transportation:

Roads:
EnergyPlex Park is conveniently located between several major roadways in Lea County, including NM 18 which connects Lovington and Hobbs as well as has access to US 62/180; NM 483, a Hobbs bypass that connects US 62/180 to Lovington as well as provides a connection to US 82, a route to Artesia; and US 62/180 which runs through southern New Mexico and into Texas, from El Paso, TX to Carlsbad, NM through Hobbs and on to Seminole and Lubbock, TX.
Annual Average Daily Traffic Counts

| | | | |
| --- | --- | --- | --- |
| | 2013 | 2012 | 2011 |
| NM 18 | 9,665 | 9,713 | 9,619 |
| NM 483 | 1,207 | 1,220 | 1,215 |
| US 62/180 | 6,107 | 6,130 | 6,113 |
| US 82 | 4,601 | 4,648 | 4,647 |

Source: New Mexico Department of Transportation

Airports:
Lea County Regional Airport is located within 10 minutes of the Park and provides three active asphalt runways. Pavement strength loadings are 65,000 for a single wheel loading and 100,000 for double wheel loading. For more specific capacity information, see full report above. The Regional Airport is also served by United Airlines, providing daily flights direct from Hobbs to Houston for passenger travel. EnergyPlex Park is also located nearby to the Hobbs Industrial Air Park as well as Lea County-Zip Franklin Memorial Airport.
In addition, Lea County is located within 90-100 minutes of two international airports: Lubbock and Midland.
Rail:
EnergyPlex Park is located 1.2 miles from the Texas and New Mexico Railway shortline (TNX) which connects to Union Pacific in Monahans, TX to Lovington, NM. The railroad has a current capacity of 286,000 pounds per axle and car storage of 500 fifty-foot cars.
Existing Utilities:
Lea County has one well currently within EnergyPlex Park, with plans for two additional wells. The current well connects to a City of Hobbs 8″ pipeline that extends up NM 483 and 1.9 miles into the site. Nearby to the site, the City of Hobbs also has a 14″ pipeline extending to the Lea County Correctional Facility and the Hobbs Industrial Air Park (HIAP). The Park also lies near to two additional well fields: HIAP Well Field and Hydro Well Field.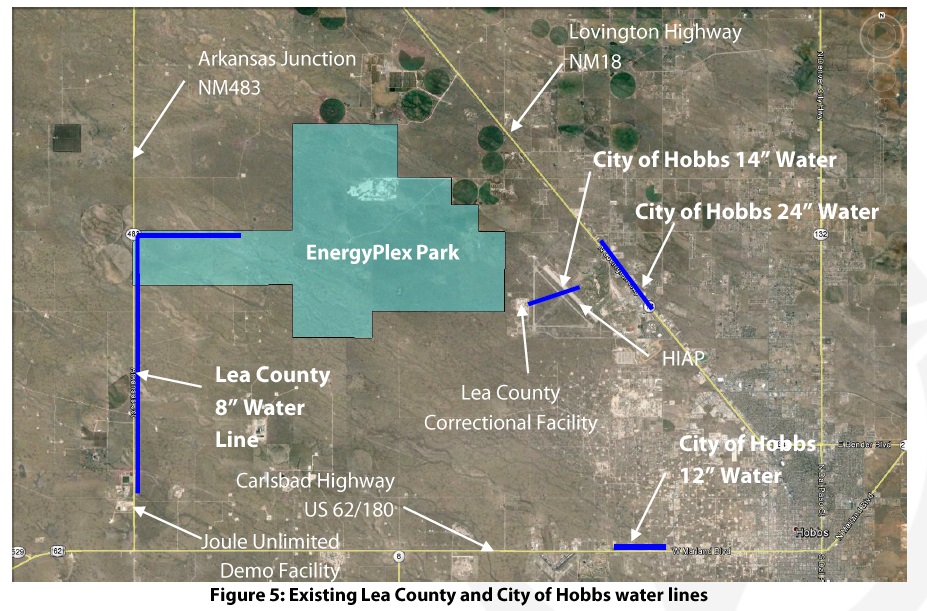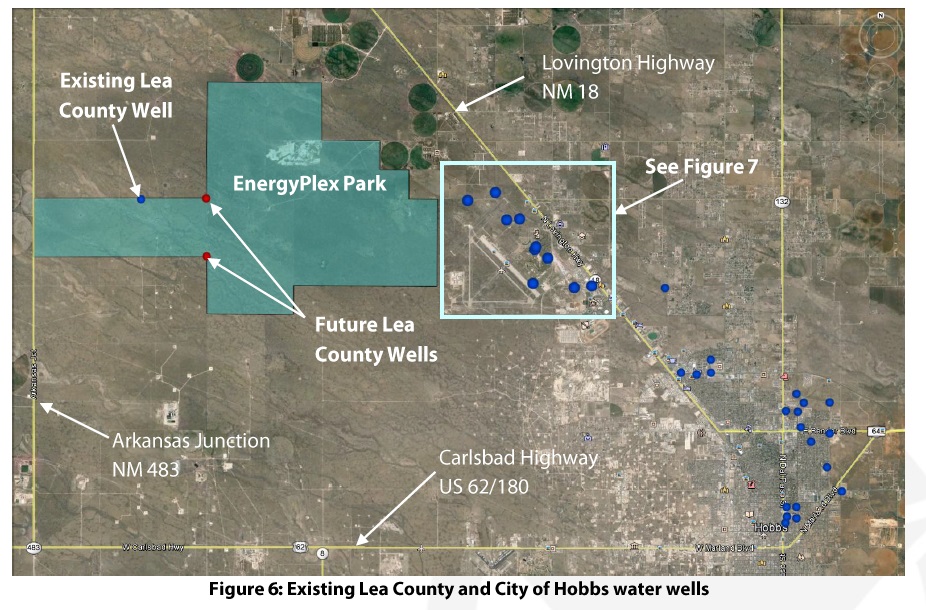 EnergyPlex Park is located near the City of Hobbs Trunk Line F sewer system. The system has a current capacity of 64 million gallons/day. Nearby sewer lines include a 10″ line less than a mile from the site along with a 12″ line north of US 62/180.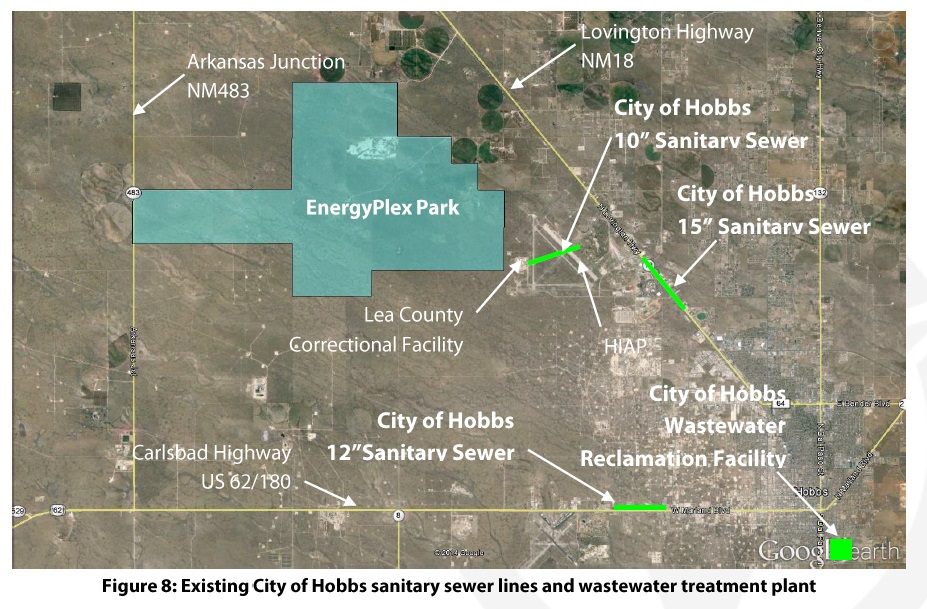 Xcel Energy provides service to the Park, with two current transmission lines (115 kV and 230 kv) from the Cunningham and Maddox stations. Additionally, Lea County Electric Coop has a line running along the north side of the Park, but they do not currently provide power to the site. Xcel also has several more distribution lines running near or into the site.
Current fiber optic lines that run nearby to EnergyPlex Park include those by TDS (fiber internet) along NM 18, Leaco along NM 18, Windstream along US 62/180, and Penasco Valley Telecom along US 62/180. These lines could be extended into the EnergyPlex Park site.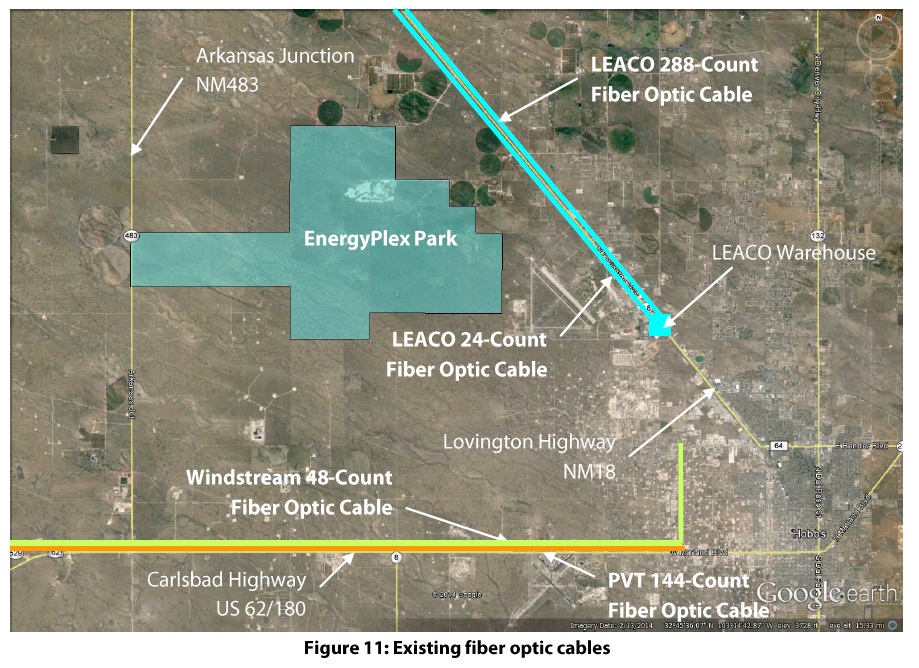 Both Zia Natural Gas and New Mexico Gas Company offer service in or near to EnergyPlex Park. NM Gas Company has an existing 8″ 600lb line through the park. Zia Natural Gas has a 4″ 35lb line running to Lea County Correctional Facility, less than a mile from the park.